ROY ORBISON JR
Roy Orbison Jr is a producer, guitarist and son of rock and roll legend Roy Orbison ("Oh Pretty Woman," "You Got It," "Only The Lonely") and German-born, prolific music businesswoman Barbara Orbison. His father has a #1 hit song in every country, and a career that spans four decades. His godparents are Johnny and June Carter-Cash.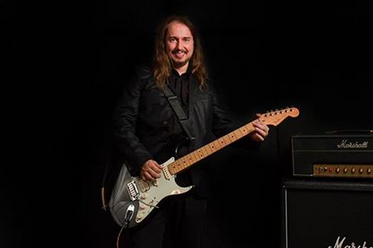 Much like his parents and godparents, he has been involved in music his whole life.
Akin to his mother, Roy, Jr runs a publishing company and passionately honors the legacy of Roy Sr.'s talents and iconic catalog. Even 30 years deceased, Roy's impact continues. And his work lives on in award-winning films such as A Star Is Born, You've Got Mail, Star Trek and Aquaman.
And parallel to his father, he too met the love of his life in a foreign country following a traumatic period of time, and wed in Nashville.
From growing up backstage with Bob Dylan, Tom Petty and George Harrison of supergroup The Traveling Wilburys, to writing a song with Bono of U2 when he was 17, young Roy, Jr got a "fly on the wall" perspective of rock and roll history. Nowadays, he is sought after for his expertise of archival rock and roll knowledge about his father, Elvis, The Beatles, The Traveling Wilburys, Cash, Sun Records and more.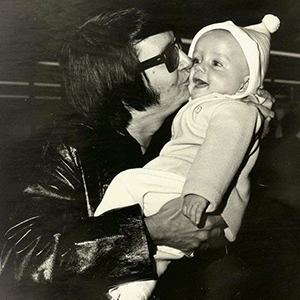 He is President of Still Working Music Group, home to hit songwriters for superstars Luke Bryan, Kenny Chesney, Celine Dion, Miranda Lambert, Tim McGraw, Maren Morris, One Direction, Blake Shelton and Gwen Stefani. He is also co-author of The Authorized Roy Orbison, and creator and host of "Roy Orbison, Jr's Rock & Roll Circus" podcast where he deep dives into the makings of iconic artists, songs, musicians and music stylings.
Roy, Jr led the charge on the series of Royal Philharmonic Orchestra albums (Unchained Melodies, A Love So Beautiful). With his two brothers Alex and Wesley, as well as his then 10-month-old son Roy Orbison III, he played instruments on the records, and all their wives sang background vocals.
He was instrumental in the creation of the first-ever hologram tour that reimagines his father and Buddy Holly to contemporary audiences, and pivotal in launching "Pretty Woman the Musical". The story behind the mega hit song comes to life on stages across the world from New York City, Los Angeles, Philadelphia, San Diego, St. Louis and Seattle, to London, Hamburg, and soon to be opening in Barcelona, Australia and Japan.
Roy, Jr was born in Nashville, grew up in England until he was five, and then called the back of a tour bus home.
On his birthday in the fall of 1975, his father called him onstage at a concert in London and presented him with a guitar. He soon learned "You Are My Sunshine," which was the first song his grandfather Orbie Lee Orbison taught his father at six years old. At age 14, the family moved to Los Angeles and he attended high school at Crossroads in Santa Monica.
He is married to Asa Orbison of Swedish descent, and together, they have two young sons, Roy Orbison III and Bo Orbison. They reside in Los Angeles and travel the globe regularly.
Roy Orbison, Jr Website I Instagram I Facebook I Twitter I Podcast
PR Contact: Amber Williams, amber@beaucoupmedia.co (not .com)